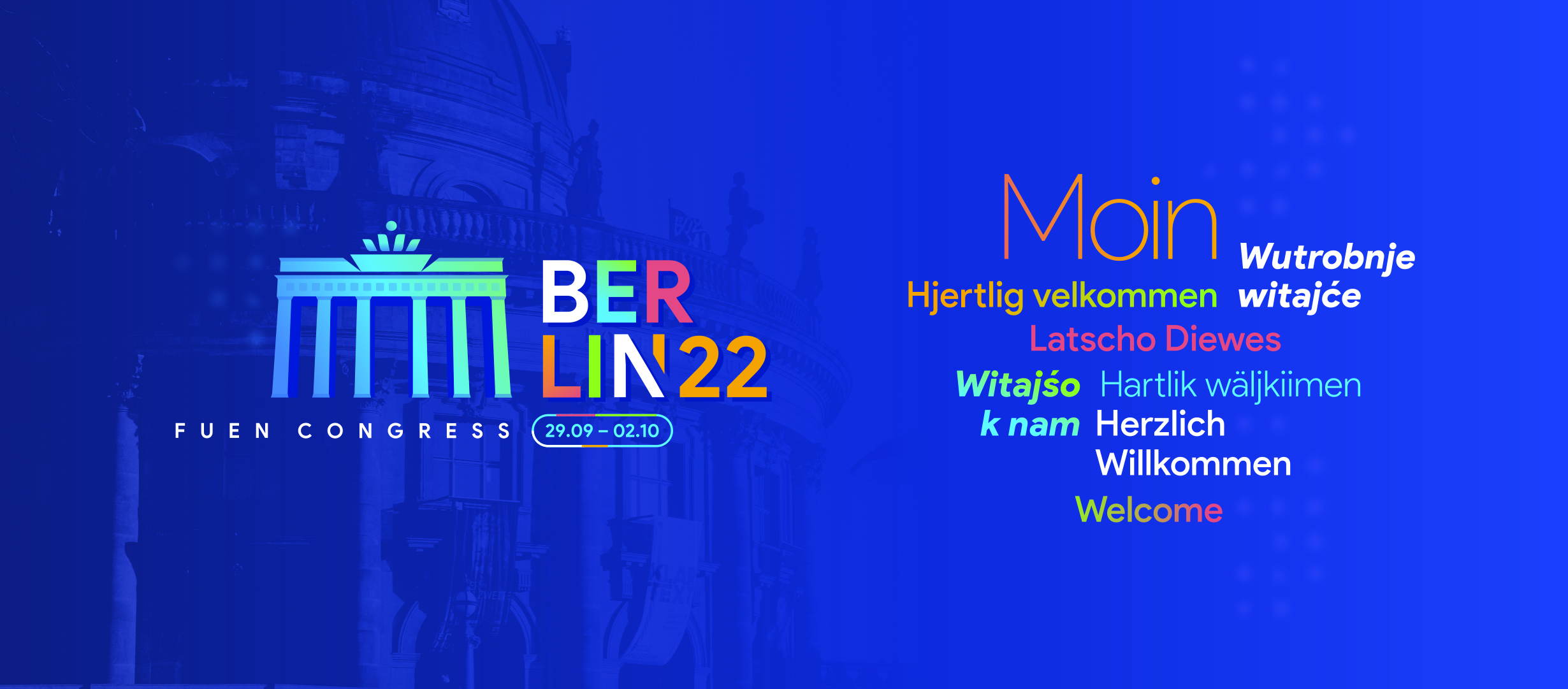 66. FUEN Congress will take place from 29 September till 02 October in Berlin
01.09.2022
Minority communities in international and regional conflicts and the four autochthonous national minorities and ethnic groups in Germany will be the focus points of the 66. FUEN Congress in Berlin. Europe's largest gathering of national minorities and language groups will start on 29 September with the opening ceremony held at the Representation of the state Brandenburg in Berlin, with invited speakers Dr. Jutta Jahns-Böhm, State Secretary of Brandenburg, Gitte Hougaard-Werner, Chair of the Minority Council of Germany, Natalie Pawlik, Member of the German Parliament and Federal Government Commissioner for Matters Related to Ethnic German Resettlers and National Minorities, as well as the speech of FUEN President MEP Loránt Vincze and a video message by Roberta Metsola, President of the European Parliament. The opening speeches will be followed by a BundesTalks session – a discussion with Bundestag members on minority rights, and a panel discussion entitled Survival and Hope – Minority communities in international, regional and national armed conflicts. The FUEN Prize will also be awarded on the first day of the congress.
The works of the congress will resume the next day at H4 Hotel Alexanderplatz with the panel My language, my identity on the four autochthonous national minorities and ethnic groups in Germany and the Minority Council, the host of this year's FUEN congress. The work of the Minority Council consists primarily of promoting and protecting the rights and interests of the four autochthonous national minorities in Germany, the Frisians, the Danes, the German Sinti and Roma and the Lusatian Sorbs. It functions as a representative of the minorities' interests and as a link between the Federal Government and the German Bundestag. The annual meetings of FUEN's working groups, meetings with members of the German parliament, visits of the Reichstag Dome and of the Memorial to the Sinti and Roma of Europe Murdered under National Socialism and the traditional Minority Market is also scheduled to take place on this day.
The Assembly of Delegates, where the new Presidium of FUEN will be elected, will take place on Saturday, 1 October.
Registration is now open on the official congress website (congress2022.fuen.org), where you can also find the detailed program, information on the locations, accommodation costs and everything you need to know to become part of the congress in Berlin.
The registration deadline is 10 September 2022!
The Congress of the Federal Union of European Nationalities (FUEN) has been held annually by the umbrella organisation since 1949 in cooperation with hosting minorities and is dedicated to European minority concerns as well as the specific situation and activities of the respective host minorities. With around 200 participants from more than 30 countries, the FUEN Congress is the largest meeting of autochthonous, national minorities in Europe – with corresponding European impact and visibility. In addition to member organisations and partners of FUEN, personalities from politics, science, culture and the media also take part. In 2021, the FUEN Congress was held in Trieste/Trst, Italy.