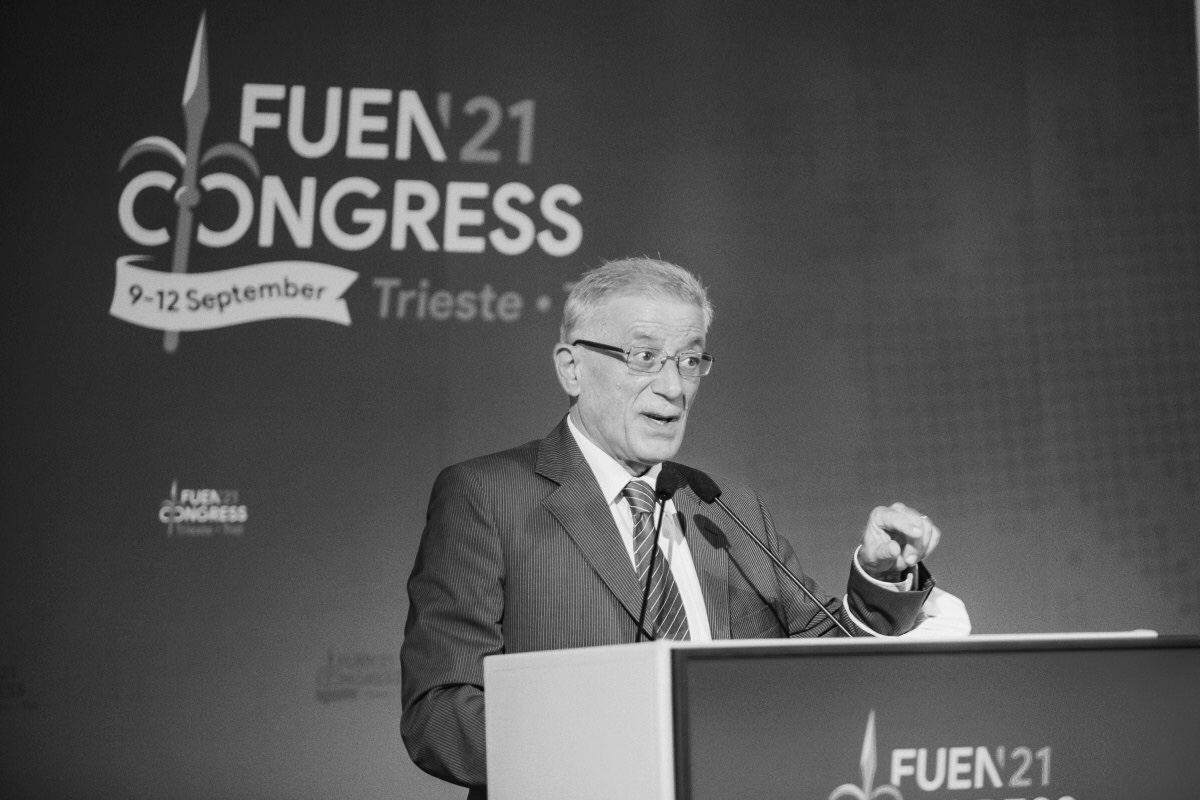 Rest in peace Antonio
With pain and a heavy heart, we announce the sad news that our dear friend and member of FUEN and AGSM, Antonio Sammartino, left us much too early. Not long ago, he kindly received us in his community of Molise Croats in Italy, in his hometown of Montemitro / Mundimitar, where he opened the doors of his home to us. At the AGSM seminar, we were able to see him heartily happy and smiling, because hosting the international community of Slavic minorities at home meant the most to him. When we accepted his organization "Foundation Agostina Piccoli" into the FUEN family at the FUEN Congress 2018 in Leeuwarden / Ljouwert, Antonio immediately became one of us. Always smiling and playful gentleman who, with his Italian-Croatian charm, knew how to enchant everyone, even if they did not know how to speak a common language. His kindness and good will got under our skin. We will never forget his ardent commitment to the good of minorities and ethnic communities, and especially his struggle and fight for the recognition of Molise Croats.
Dear Antonio, we will always carry you in our hearts and remember you in good thoughts. Be our angel in heaven Zizì! Tvoje čeljade!
FUEN and AGSM express their sincere condolences to you, dear Francesca, Vesna, Sergio, and all the family, relatives and friends!
HRVATSKI:

S bolom i teška srca javljamo tužnu vijest da nas je prerano napustio naš dragi prijatelj i član FUEN-a i AGSM-a Antonio Sammartino. Nedavno nas je ljubazno primio u svojoj zajednici moliških Hrvata u Italiji, u svom rodnom mjestu Montemitro / Mundimitar, gdje nam je otvorio vrata svog doma. Na seminaru AGSM-a mogli smo ga vidjeti od srca sretnog i nasmijanog, jer mu je najviše značilo gostovanje međunarodne zajednice slavenskih manjina kod kuće. Kada smo njegovu organizaciju "Zakladu Agostina Piccoli" prihvatili u obitelj FUEN na kongresu FUEN 2017 u Leeuwardenu / Ljouwert, Antonio je odmah postao jedan od nas. Uvijek nasmijan i vedar gospodin koji je svojim talijansko-hrvatskim šarmom znao očarati svakoga, čak i one koji nisu govorili istim jezikom. Uvijek ćemo se rado sjećati njegove dobrote i blagosti. Nećemo nikada zaboraviti njegovo gorljivo zalaganje za dobrobit manjina i etničkih zajednica, a posebno njegovu borbu za priznanje moliških Hrvata.
Dragi Antonio, uvijek ćemo te nositi u našim srcima i sjećati te se u dobrim mislima. Budi naš anđeo na nebu, Zizì! Tvoje čeljade!
FUEN i AGSM izražavaju iskrenu sućut Vama, draga Francesca, Vesna, Sergio, te cijeloj obitelji, rodbini i prijateljima!