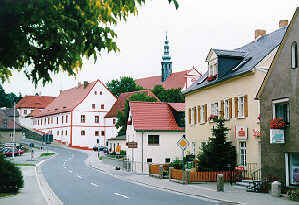 Domowina worries about the future of Sorbian museums in the rural areas of Lower and Upper Lusatia
The uncertain future of Sorbian museums in the rural areas of Upper and Lower Lusatia prompted the incumbent spokeswoman for the Domowina regional association "Jan Arnošt Smoler" Bautzen / Budyšin, Leńka Thomas, to write a letter to the Foundation for the Sorbian People. The Domowina regional board of Bautzen sees an urgent need for a full-time employee to take care of the financial and material resources of the museums and to support the conceptual work. On the territory of the Bautzen Regional Association, this applies above all to the "Korla Awgust Kocor" school museum in Wartha / Stróža and the Martin Nowak Neumann House in Nechern / Njechorń. But the future of the Ćišinski Museum in Panschwitz-Kuckau / Pančicy-Kukow is also currently being considered, and in Lower Lusatia the tug-of-war is ensuring funding for the Dissen / Dešno local history museum, the "most popular museum in Spree-Neiße" (Lausitzer Rundschau ) has made headlines since last year.
These days in the Wartha / Stróža school museum a consultation with the mayor of Malschwitz / Malešecy, Matthias Seidel, the chairman of the Domowina Dawid Statnik, the director of the Foundation for the Sorbian People, Jan Budar, the Domowina regional spokeswoman Katja Ließner and Jana Peter vom The "Radiška" local history association, the sponsor of the museum and also a member of the Domowina regional board, took place. Jana Peter pointed out the problems that are currently typical for such museums: The operators are overloaded with working out their own share for subsidies, generating operating costs and growing bureaucracy. In this specific case, possible projects were addressed, in particular the renovation of the house, which is the responsibility of the municipality. The museums are particularly important for children and young people, who are introduced to the Sorbian language, culture and tradition in this way.
Domowina chairman Dawid Statnik: "The Radiška association invests all its energy in maintaining this great monument of history. We experience something similar elsewhere in Lusatia. The current situation puts an additional strain on the job. We therefore want to improve the conditions together with the Foundation for the Sorbian People. I am pleased that the Malschwitz / Malešecy community is clearly committed to its joint responsibility. "
Jan Budar, Director of the Foundation for the Sorbian People, stated after the meeting: "To improve the situation of the Sorbian museums in rural areas, a solution must be found that takes our Sorbian / Wendish museum landscape as a whole into account. These museums are not only part of our cultural heritage, but also attractive places of education for schoolchildren and tourists and important meeting places for associations. If someone can be found who can develop such a concept and provide advice on the implementation on site, the foundation will be happy to support them. "